Our Strength is Fellowship; Our Success is Participation.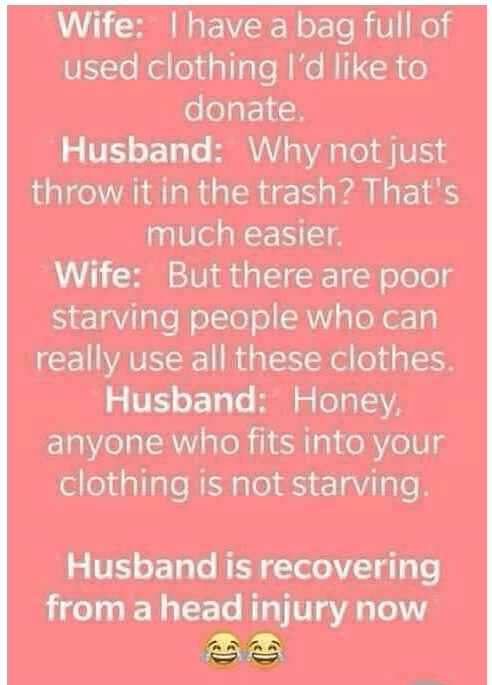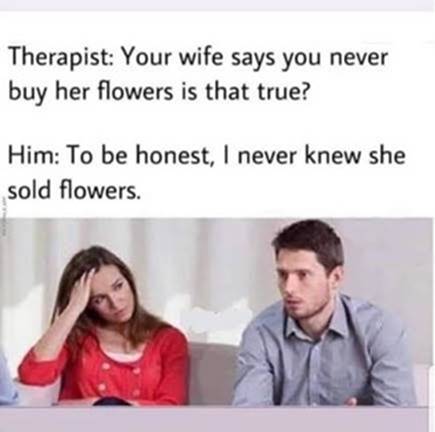 Things You Learn if You Live Long Enough !🤣
-Choked on a carrot this morning, and all I could think of was, "I'll bet a doughnut wouldn't have done this to me."
-Nothing spoils a good story more than the arrival of an eyewitness. (Mark Twain)
-It only takes one slow-walking person in the grocery store to destroy the illusion that I'm a nice person. 👍
-It turns out that when asked who your favourite child is, you're supposed to pick out one of your own. I know that now.
– It's fine to eat a test grape in the produce section, but you take one bite of rotisserie chicken and it's all, "Sir, you need to leave!"
– One thing no one ever talks about when it comes to being an older adult, is how much time we devote to keeping a cardboard box because it is, you know, a really good box.!
-I can't believe I forgot to go to the gym today. That's now seven years in a row
-If you dropped something when you were younger, you just picked it up. When you're older and you drop something, you stare at it for just a bit contemplating if you actually need it anymore.
-I like to make lists. I also like to leave them lying on the kitchen counter, and then guess what's on the list when I am at the store.
-Ask your doctor if a drug with 32 pages of side effects is bad for you.
-I relabeled all of the jars in my wife's spice rack. I'm not in trouble yet, but the thyme is cumin
-I just read a book about marriage that says treat your wife like you treated her on your first date. So, tonight after dinner I'm dropping her off at her parent's house ! 🤣
-The best way to get back on your feet is to miss two car payments.
-I love bacon. Sometimes I eat it twice a day. It takes my mind off the terrible chest pains I keep getting.
-As I watch this generation try to rewrite history, one thing I am sure of is that it will be misspelled and have no punctuation.
-Driver: "What am I supposed to do with this speeding ticket?" Officer, "Keep it. When you collect four of them, you get a bicycle." 👍
-I asked a supermarket employee where they kept the canned peaches. He said, "I'll see," & walked away. I asked another & he also said, "I'll see," & walked away. In the end, I gave up & found them myself, in Aisle C.
-I told my physical therapist that I broke my arm in two (2) places. He told me to stop going to those places.
-I put our scale in the bathroom corner & that's where the little liar will stay until it apologizes.
– When I was a kid, I used to watch the 'Wizard of Oz' & wonder how someone could talk if they didn't have a brain. Then I got Facebook.
-Do you ever get up in the morning, look in the mirror & think, "That can't be accurate!"
-I want to be 14 again & ruin my life differently. I have new ideas.
Apparently RSVP'ing to a wedding invitation with "Maybe next time" isn't the correct response.
-A guy walks into a lumberyard & asks for some 2x4s. The clerk asks, "How long do you need them?" The guy answers, "A long time. We're gonna build a house."
-I just burned 1,200 calories. I forgot the pizza in the oven.
-Who knew that the hardest thing about being an adult is figuring out what to fix for dinner and doing it every single night for the rest of your life until you die?
-I hate it when people act all intellectual and talk about Mozart when they've never even seen one of his paintings. 😂
– Never trust an electrician with no eyebrows.
-So, my neighbour knocked on my front door at 3 a.m. 3AM!!! Luckily, I was already up playing the bagpipes. 😳👏👏
Dec
1
Fri
Probus Christmas Luncheon
Dec 1 @ 9:45 am – 1:45 pm
Probus Christmas Luncheon
Alpine Ski Club
Guest Speaker, Peter Lang, Air Canada Ret'd
The Intricacies of Safe International Flight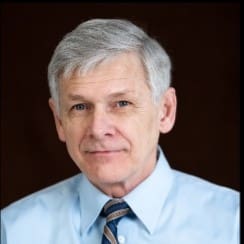 Peter Lang spent 40 years as a commercial and military pilot. He began flying professionally in 1975 piloting the DeHavilland Twin Otter in Canada's high arctic where he flew "off strip" in support of resource exploration, scientific study and Dew Line re-supply. In 1978 he was hired by Air Canada however during an industry wide slowdown in 1981 Peter left Air Canada and joined the Royal Canadian Air Force where he trained as a fighter pilot. As an air superiority and ground attack fighter pilot flying the CF-18, he intercepted Soviet bombers, developed tactics for attacking cruise missiles, flew sovereignty missions in the high arctic and was a squadron test pilot. In 1988 he returned to Air Canada where he flew a number of different airliner types, retiring in 2016 from the position of Captain on the Boeing 777.
But it was in his early years in the high arctic that Peter experienced first-hand the high cost, logistical difficulty and environmental hazard of providing diesel fuel for to arctic communities for power and heat; and he resolved to help find a solution. In 2008 he founded Dunedin Energy Systems, and, after investigating the available energy alternatives, Peter began leading the development of the Canadian Thermal BatteryTM , a micro nuclear power plant specifically designed and engineered to meet the unique energy needs of Canada's northern and arctic communities. Peter is an active member of the Canadian Nuclear Society where he served 2 years on the CNS Council and co-chaired the Education and Communications committee.
Friday, December 1, Doors open at 9:45 am
Everyone is welcome. $65 pp.
Contact Doug Smith
Please don't forget to bring a new unwrapped stuffed toy suitable for a young child.
These will be collected for the Hospital by Bud and Suzie Christensen Thanks for this.
Meetings are the first Thursday of every month, starting at 10:00 am. They are held at The Royal Canadian Legion, 490 Ontario Street, Collingwood.